The race this past weekend blended so well into my normal routine that I almost forgot to post about it! Other than acting as a homestay for Barrett Brandon and his wife Lauren, as well as Greg "the Future of Triathlon" Billington, I didn't stray too far from the norm.
Anyways, the race took place in Lake Louisa State Park. It was a sprint distance Pan American Cup with ITU ranking points on the line so it attracted quite a talented field from all over the world. I do almost all of my cycling workouts inside the park so I definitely knew the course quite well. Lake Louisa itself is so shallow that the swim was a non-factor – I probably only swam 300 meters total, spending the rest of the time either running or dolphin diving. A huge front pack formed up halfway through the first of four laps on the bike and this was how we entered T2. I came out of T2 right in the middle of the field and immediately ran straight to the front of the race. My run fitness seemed to be quite good entering the race so my confidence was high but after about four minutes of running right behind the leaders I blew up fantastically. I faded hard to 16th. This was not at all the result I thought myself capable of. Hopefully I can make up for it in Mooloolaba!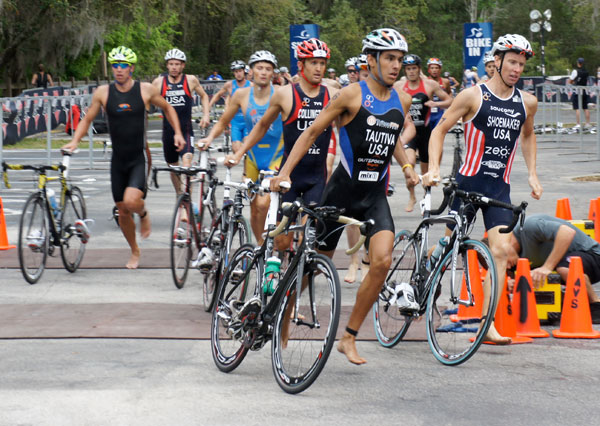 Heading out onto the bike with three other Clermont locals Jarrod Shoemaker, Nic Tautiva and Maxim Kriat.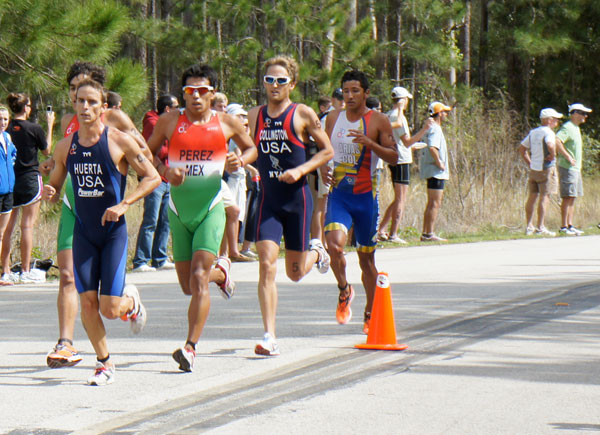 Halfway through the run and fading hard.
Here is a video of the finish starting with the third place finisher Kaleb Van Ort:
After the race USAT hosted a cycling skills camp. This is exactly what I needed. We Americans are not known for our bike handling skills (with the exception of a few skilled athletes). Let's just say that it would take more than my fingers and toes to count the number of times American World Championship Series 'regulars' hit the pavement last year in races, and I contributed one to that number! Michael Heitz was our instructor and he was awesome!
The highlight of the weekend was a spirited game of three-on-three 'trashball,' a game played on a grass field where the objective is to pick up a small foam ball and score it into a trash can, all while riding bikes. Additional rules state that all three members of the team must possess the ball before scoring, and no single rider can possess the ball for more than three seconds. It turns out that Greg Billington is pretty much the Lebron James of trashball (Sidney Crosby for my Canadian readers). I specialized in defense and definitely stacked pretty hard a couple of times to prevent others from scoring. Thankfully I didn't break my bike (or myself) so it's all good.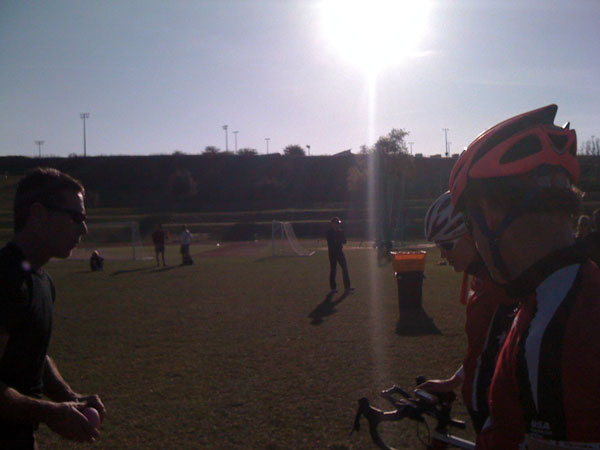 Coach Heitz explaining the rules of trashball to Gwen and Ben. The goal can be seen in the background – a recycling bin on top of a trash can.