My race in Clearwater this past weekend ran a striking parallel to my 2010 season as a whole: It wasn't an exceptional result, but it also had some bright spots. It certainly wasn't what I wanted and I'm sure I am capable of much more. There were some bad patches (in fact the first two thirds of it was a pretty bad patch) but I found my footing at the end and finished up with a decent result.
More specifically my race in Clearwater went like this: After an extremely poor beach run-in start I found myself right at the front end of the second swim group – NOT where I wanted to be! Our group lost a minute to the leaders in the water and onto the bike I found myself in an ITU-style 'must make the front pack' scenario. Another split formed ahead of me and my 'front pack' hopes were dashed. I couldn't close down the gap to the group of athletes that eventually bridged to the front group. I know it sounds like I'm talking about an ITU race but the bike was almost completely legal in the non-drafting sense of the word (mainly due to the pro field having less than half the numbers of last year's race). I rode by myself for awhile, slowly coming to terms with 56 miles of losing massive time to the leaders. But then Chris Legh, Maxim Kriat and Leon Griffin went by me – I got on the group and it was literally all I could do to stay with them. I was on the rivet for the majority of the ride, so much so that I didn't even think I would be able to finish the run after such a death-flog bike leg. In the end, though, I was fine on the run. I ran a race fourth-best 1:12:32 half marathon to run from 23rd to eighth. So I was very happy with my run. I'm even more excited that it's off season time!
Here are some pics from this past weekend: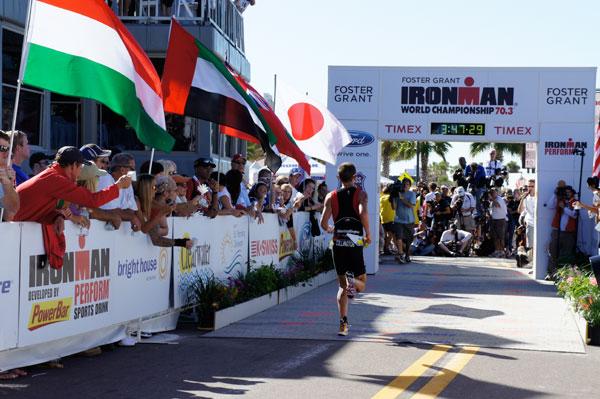 A long day at the office.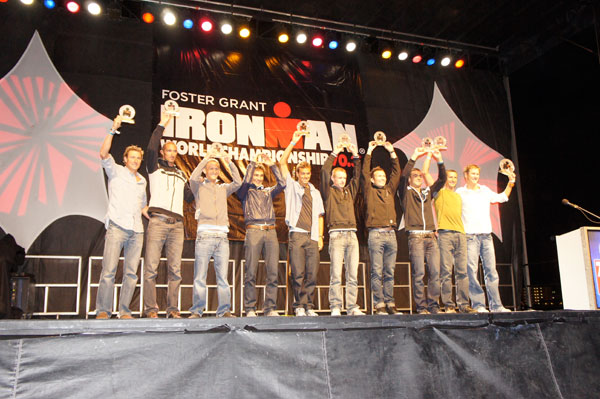 I still made the podium. It's definitely worth it to hear a Michael Raelert victory speech – he's hilarious!