If you could go anywhere in the world for a winter training camp where would you go? I think most would answer one of the usual suspects: Hawaii, Southern California, Tucson, South Africa, Australia, etc. What about Gainesville, FL? Don't laugh! It's true: Gainesville is a spectacular winter training destination. In fact I just got back from a four week training camp there. Here's why it's great:
When most people think of training for triathlon in Florida they automatically think Clermont. With hills that seem almost out of place on the Florida landscape, a community that is known for supporting triathlon and cycling, and the National Training Center, Clermont really shines as a triathlon training destination. However, Clermont lacks sufficient unpaved running trails, and what if you want some flat riding? That's where Gainesville comes in – with the world class training facilities at the University of Florida, countless miles of flat, safe cycling roads, and tons of unpaved trails to run on, Gainesville really is a great place to train for triathlon.
The foundation for athletic training in Gainesville is obviously the University of Florida. The biggest university in the state of Florida (and one of the biggest in the entire U.S.), it's athletic facilities are world class. UF's campus features two 50 meter pools (one indoor and one outdoor), a 25 yard pool, and a 50 yard pool (huh?), a competition quality outdoor track (and an indoor track if you want that), and quite a few on-campus running trails. For the few days of the year that UF's facilities are closed (holidays) you can find a few off-campus pools to swim in (I know of two 25 yard pools and one 50 meter), so you will never be at a loss to find swimming access. Also, the track and field on campus never closes.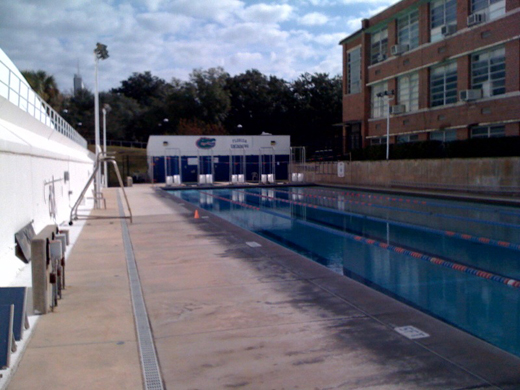 UF's O'Connell Center outdoor 50 meter pool. This is where the Gator Swim Club masters team practices. The masters team is a great option and not too expensive. Plus you don't have to do their workouts and you get access to a sweet pool. Not bad.
What about biking? Despite UF's presence Gainesville remains a medium-sized city at best. 15 minutes of riding will get you out of the city and onto some of the best (albeit flat) back country roads around. In terms of safety it is uncommon to find a road without a large bike-only lane. In fact, the city has over 60 miles of road with bike lanes. Alachua county matches Gainesville's obsession with bike lanes, as does Alachua's southern neighbor Marion county. All this adds up to some serious cycling options. In fact, Gainesville was recently ranked in the top ten cycling communities in the U.S by Bicycling Magazine. If you want something more than just flat roads Clermont is only an hour's drive south. It's worth the drive and as a professional triathlete I certainly don't have anything better to do with my time!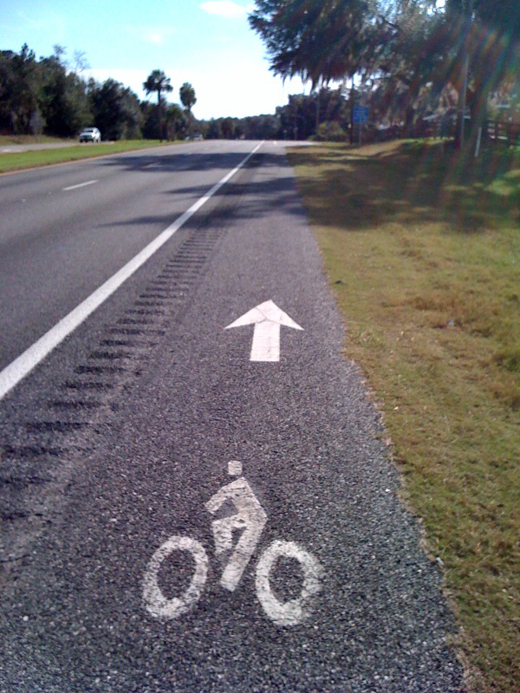 A double wide bike lane with rumble strips…awesome!
Running is where Gainesville really shines. With UF's track and field program and facilities Gainesville is the winter destination of many professional distance runners and track athletes. Triathletes, though, will love the unpaved trails for all of those long winter miles. This includes but is not limited to Tobacco Road, the Jungle, Ring Park, and the biggest of them all: San Felasco State Park. San Felasco is literally big enough to run 20 miles or more without crossing your path. Any of these places can be readily pointed out by any savvy Gainesville runner, and be sure to run with a local for your first few times in San Felasco or you will surely get lost. I learned that the hard way.
If you're looking to run some hills Gainesville will not disappoint. A few blocks north of campus between NW 8th street and NW 16th street you will find a neighborhood known by runners as the Frank Shorter loop (named after 1972 Olympic gold medalist and 1976 Olympic silver medalist Frank Shorter. He was also a member of the Gainesville-based Florida Track Club in the early '70s). Here you will find all sorts of hills to run: short, steep climbs to longer more gradual grades. And if you're doing speed work in the winter you can always get onto UF's outdoor track, but why would you want to do track workouts in the winter? That is, unless you're peaking for the F.A.S.T triathlon.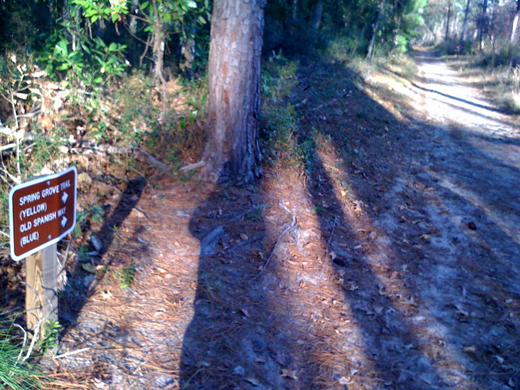 San Felasco trails.
If Gainesville has any drawbacks it is this: parking. UF campus is a nightmare for parking a car, and the neighborhoods surrounding the University are similar. If you plan on using any on campus facility you're much better off having a bike. Or, better yet, a scooter. Also a problem is the ubiquitous college atmosphere. If you don't like this sort of thing, or if you have trouble staying away from typical college town distractions, then perhaps Gainesville isn't the place for you.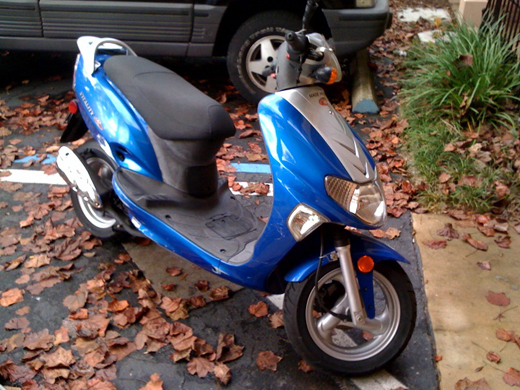 You might want one of these if you plan to swim on campus. Or you can just ride your bike.
In short, Gainesville is a great place to train in the winter. So if the usual suspects ever grow tiresome you know where to go!