So this is what it feels like to have a good result! I haven't felt this good about a race in a long time (since November 14th, 2009 to be exact). Of course I prefer the top step of the podium but Mark Fretta stole the race with a blazing fast bike split (on a borrowed bike no less). The Chicago Triathlon isn't a race to go to for fast splits but I managed a solid swim, a breakthrough bike, and the fastest run of the day, so I consider it a breakthrough performance all around.
The race started with an in-water start (not my favorite) and I got beat up a little bit more than I envisioned. I lost some ground but was able to swim my way back up to the front of the main pack by 400 meters in. Cam Dye was off the front (as expected) and I just sat in for the rest of the swim. I exited the water in seventh and during the half mile run to T1 I moved up to third.
After fumbling around with my TT helmet for far too long I made it out onto the bike. Cam Dye was way up the road and Mark Fretta and Matt Reed were about 50 meters up. Mark got away from Matt and I eventually caught and passed Mr. Reed myself. At the 20K turnaround I was third on the road about 1.5 minutes down on Cam Dye and 45 seconds down from Fretta. For the last 20K I made sure to stay focused and tried to minimize the time gaps. Starykowicz passed me in the last 10K but he was the only person to get me – definitely a good sign to only get passed by Starky over 40K! I entered T2 almost two minutes down on Dye, 1:20 down on Fretta, and 25 seconds back from Starky. Filip Ospaly was right with me and we headed out onto the run together.
At this point I should probably mention that it was 95+ degrees with no cloud cover – it was hot!! I tried to run with Ospaly but he dropped me quickly as I was incredibly tight from holding my TT position for so long. I caught Starky and Dye by mile two so again I was third on the road. I could see Fretta on some of the longer straightaways but I was just trying to keep Ospaly within reach and not succumb to the blistering heat. Finally I started to loosen up around mile three and noticed that I was starting to reel Ospaly back in. I really started flying around mile four. I re-caught Ospaly and cut Mark's lead in half during the last two miles but it became obvious that I was going to run out of room. I finished comfortably in second (comfortably meaning that Ospaly was almost a minute back in third. My physical state was nowhere near comfortable – 'impending heat stroke' seems like a better description).
I would normally post a glorious picture of me on the podium but the awards ceremony was canceled. Mark and I have a theory that we ruined the Chicago Triathlon by beating all of the 'standard' podium finishers and thus the awards ceremony was not necessary…but in reality the USADA anti-doping control just took too long after the race! Either way, Mark and I pretty much own the city of Chicago Michael Jordan style at this point. I'm sure next time I show up at O'Hare I'll be greeted with a limo and swept away to the Imperial Suite of the Hilton Chicago. Or not…
Overall it was an excellent weekend in Chicago with lots of deep dish pizza and OTC athletes occupying two out of three podium spots in both the men's and women's races (virtual podium spots of course. Did I mention that there was no real podium? Well there wasn't). Now I just need to rest up and stay sharp for Budapest!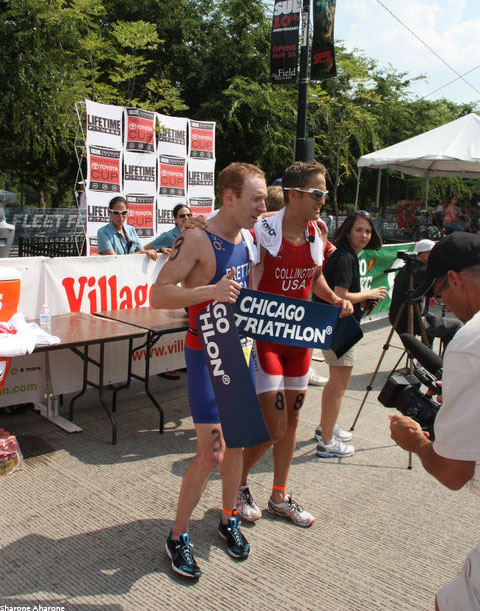 Fretta was probably more surprised than anyone else about his win. Yep this is the same guy who told me he expected to be fifth at best!