I raced the Elite National Championship this past weekend in Tuscaloosa and placed eighth. I'm going to be honest: eighth place is not what I was looking for, but I definitely didn't taper for the race so I got what I deserved in terms of performance. The good news is that ever since arriving home at the Olympic Training Center everyone is congratulating me like it was the best result of my career. The first few times this happened I responded with the token "Thanks…it was OK." But then I figured why argue? Now I just go with "I know! I did AWESOME, right?!?"
Anyways, the race had it's high points: I exited the waters of the Black Warrior River only ten seconds down from a slew of excellent swimmers including Kalen Darling, Cam Dye, Dustin McLarty, and Ben Collins. On the bike I was able to hide so well in the front pack that my wattage average would probably fit better in a junior girl's race. Everything was set up for me to have the run of my life and the first 2.5K was exactly that. I felt strong and smooth and was making up time on the few leaders who managed a small breakaway at the end of the bike (netting them about ten seconds advantage into T2). After this things went downhill. I realized at about 5K that I was feeling a bit loopy and should probably slow down if I wanted to cross the finish line. I faded to eighth, crossing the line in a slow, meandering jog and quickly collapsed. I was escorted to the medical tent where they assessed my cognitive function by asking me what my date of birth is. Apparently I was quite adamant that it was "Wednesday." I guess that was good enough for them because they gave me some Gatorade G2 (the low calorie kind), propped my legs up on an empty soda box and left me to ponder my existence. Thanks Alabama medical personnel!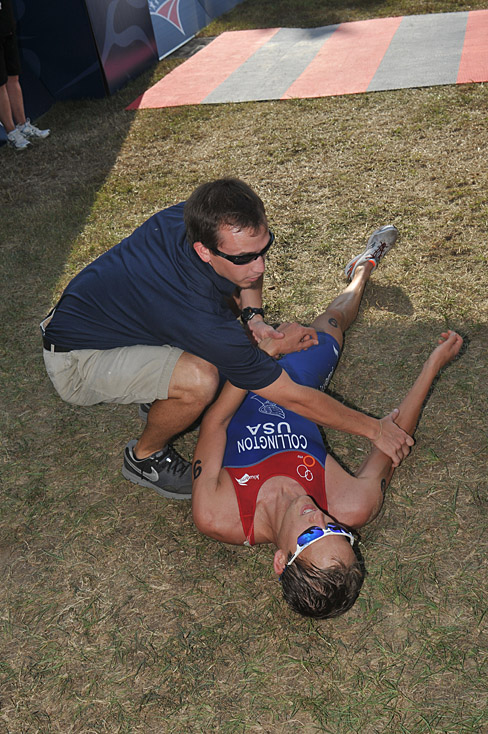 I look like I could use a low calorie sports drink right now.
Photo credit: Timothy Carlson
So now it's just back to training as usual, although my rough experience in Alabama has made recovery take a lot longer than normal. I should be able to get in at least a week of good sessions before heading down to Puerto Vallarta for the PATCO Pan Am Championship. That will be my last ITU race of 2010 so I will be resting for it just to have one last shot at scoring some Olympic ranking points.